CPhI & P-MEC India Event
As the world is moving towards new innovations, risk free, easy to use products, pharmaceutical industry looks increasingly towards worldwide for high quality, low-cost pharma solutions, CPhI & P-MEC India is the ideal event for every company who need their strong suppliers and excellent products portfolio to sale. At CPhI & P-MEC India, you will meet the movers and shakers from all over the world's largest pharma, food, chemicals, oxygen absorbers, cosmetics etc. industries, giving you a competitive advantage that will help grow your business.
IMP's participation in CPhI& P-MEC India Event
The CPhI & P-MEC event is all about food and pharma with various types of product portfolio. More than an exhibition, the event also facilitates finding the right partners with its matchmaking tool, celebrates innovation with the Awards and encourages knowledge gathering and sharing with its conference.
IMP is one of eminent high purity iron manufacturers in the world for various food and pharma applications. In pharmaceutical, the significance of high purity iron powder is highly accentuated. Apart from purity, some of the other significant dimensions of this product include the mesh size, particle size, surface area, and chemical attributes. We, at IMP, are gratified to be a part of CPhI & P-MEC Event to provide customized solution of high purity iron powders. So, here are few reasons to visit IMP in CPhI & P-MEC India Event:
YOUR STOP FOR HIGH PURITY IRON:
High purity iron produced by Industrial Metal Powders (I) Pvt Ltd, India is one of the best products of food and pharma for the world. Due to its extremely high purity and lower impurity profile, iron produced by IMP is a excellent source of iron to various industries worldwide to use in API's and bulk drugs, Making mineral premixes, oxygen absorbers, chemicals etc to get the higher yield with minimum content of impurities.
EXPORT IN MORE THAN 30 COUNTRIES
IMP India has been serving clients for more than 40 years in all areas of food and pharma grade iron for different  segments  like pharmaceutical, Mineral supplements, cosmetics, oxygen absorbers and chemical industries. IMP now has massive proportions with sales across 33 countries in the world
ZERO POLLUTANT COMPANY 
IMP India promotes pollution-free manufacturing by providing perk, allowances, and welfare schemes. Even though the manufacturing process is pollution-free, IMP promotes tree plantation through different programs.
REGISTERED UNDER FSSAI/REACH 
IMP India is registered under FSSI/REACH. FSSI/REACH is science-based standards for articles of food and to regulate their manufacture, storage, distribution, sale, and import to ensure availability of safe and wholesome food for human consumption.
WORLD-CLASS LABORATORY 
Being driven by strong R&D capabilities and innovative minds, IMP is undoubtedly one of its kind. We keep ourselves updated by including new technology to bring the quality in the product. We have 100% in-house testing facility with quality Equipment's.
ISO CERTIFIED
IMP is a renowned food grade electrolytic/reduced iron powder manufacturer, certified with ISO 9001, 14001, 22000 & OHSAS 18001 and armed with adept workforce, highly efficient manufacturing processes, and latest technology. We do have KOSHER & HALAL certifications too.
WINNER OF MANY PRESTIGIOUS WARADS
It's worth mentioning that IMP holds several prestigious awards:
Winner of SME India Award 2017 & 2019.
Winner for EEPC (Engineering Export Promotion Council) for seven years in row, from 2007-2014
Winner of prestigious G.S Parkhe Industrial Merit Award from MCCIA (Mahratha Chamber of Commerce for Industries and Agriculture for year) 2007
Voted amongst top 10 in FedEx International League 2011
CONCLUSION
IMP is ready to provide you high purity with excellent quality food and pharm grades of iron solutions at IMP at CPhI & P-MEC India. Visit us on 26th to 28th November 2019 @ hall  2A/10 , India Expo Center, Greater Noida, Delhi NCR.
Summary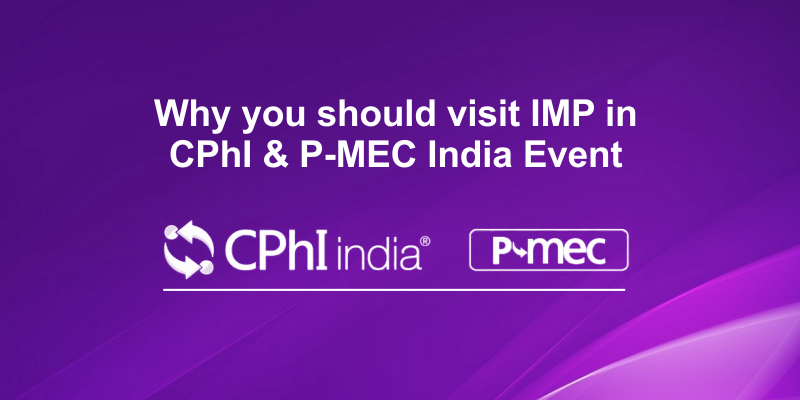 Article Name
visit IMP in CPhI & P-MEC India Event 2019
Description
The CPhI & P-MEC event is all about food and pharma with various types of product portfolio. More than an exhibition
Author
imp india