IMP welcomes you at STONA 2020 - HALL No: 4, Stall No: 121/122, Bangalore International Exhibition Center, Bangalore.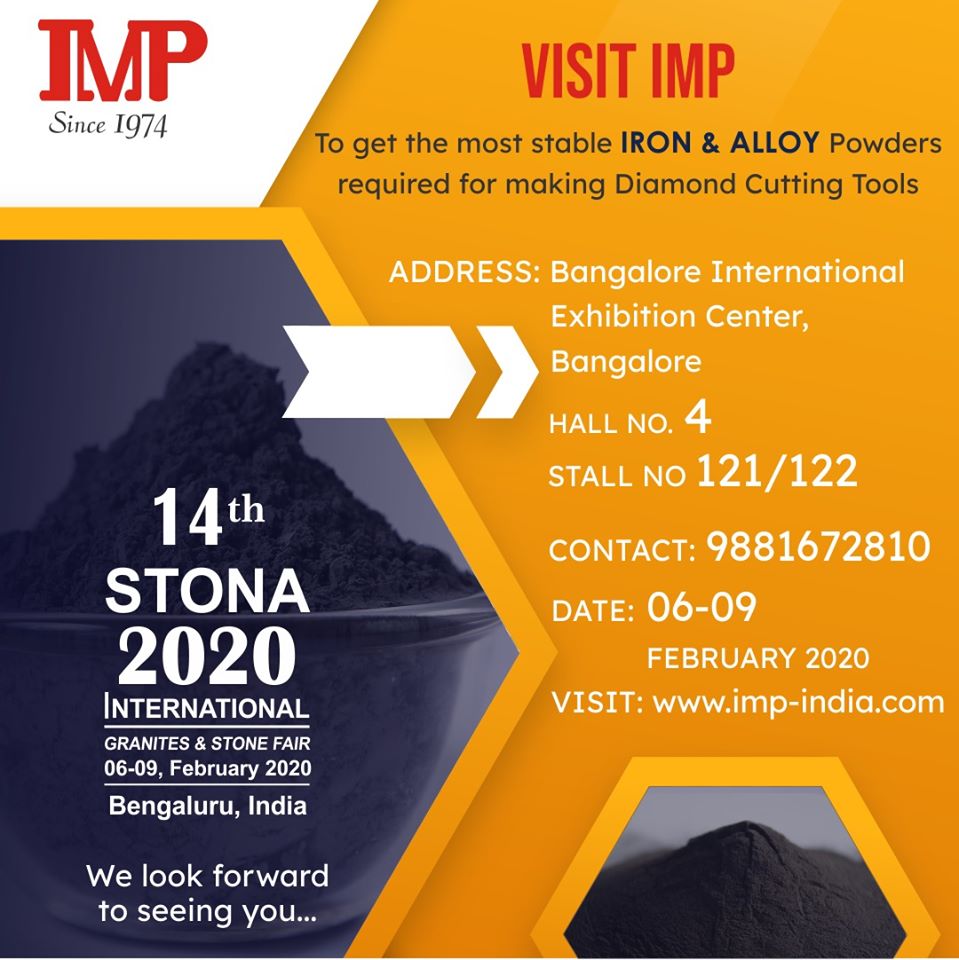 Every new year brings a happy moment around the world when they heard about one of the biggest and most interactive 4 days session of displays of Stone, Tools, Equipments etc. which comes under one platform called STONEMART.
It is being held every year in Jan/Feb to show the innovation, new product development, one to one discussion, market trend, the emerging players in the industry.
This year in 2020, it is held at the International Exhibition Center, Bangalore from 06-09 Feb 2020 to provide you customized solution of IRON & ALLOY POWDERS for Diamond Cutting Tool Industry
Higher percentage of market share.
Capacity & capability to produce bulk quantity.
Ability to maintain the quality every single lot.
Understanding of market trend and to follow the same.
Technical expertise.
To achieve these above, you need to have a trusted quality supplier who will supply you the consistency with every lot to produce the consistent segments/tools/abrasives etc.
One of the leading manufacturers in the world and the pioneer from India, Industrial Metal Powders (I) Pvt Ltd, Pune invites you to visit us in STONEMART event to safeguard your future with most stable, consistent, easily available and most economical products of ELECTROLYTIC IRON POWDERS and the PREALLOYED POWDERS.
IMP is supplying its quality products to diamond cutting tool industries since long time and now become the 1st choice of supplier to many of the diamond tools manufacturers in India and overseas.
It is because of the ethical business policies, 100% safeguard to customized products, Customized solutions, Flexibility of decisions, stable prices, consistent quality, 100% quality assurance etc which made IMP much better than competitors in industry.
currently the market is moving towards the price war and everyone is trying to get the economical options with superior quality. Here IMP gives you the options with variety of products available to use with stable pricing & 100% testing's. The pure form of iron available in the world is "ELECTROLYTIC". Our Electrolytic Iron Powder with brand name of ELECTRO-DIAMOND & prealloyed with IMPALLOY series are most demanding products in the market and supporting to tools/abrasive manufacturer to produce the consistent products to grow the business. IMP makes dispatch only after 100% testing's and confirmation by Quality dept.
This year will be introducing some innovative grades of electrolytic iron with extra-fine forms and alloy powders with economical options. Hence, we request you to please book your dates for these 4 days and visit us to secure your business.
IMP help you to sell your products by giving the consistent incoming raw materials.