What is food fortification?
Fortified foods are those that have nutrients added to them that don't naturally occur in the food. These foods are meant to improve nutrition and add health benefits. For example, wheat is often fortified with iron, folic acid, and vitamin may be added to fortified atta/maida or iron-fortified foods. An enriched food means that nutrients that were lost during processing are added back in. Many refined grains are enriched.
Food fortification has been identified by the World Health Organization, the Copenhagen Consensus and the Food and Agriculture Organization as one of the top four strategies for decreasing micronutrient malnutrition at the global level.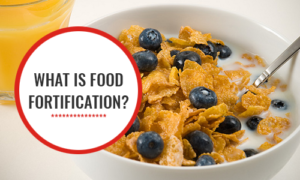 Food Fortification Benefits:
Fortification is a simple, affordable and viable approach to reach large sections of a country's population with iron, folic acid, and other essential micronutrients.
If consumed on a regular and frequent basis, fortified foods benefits and will maintain body stores of nutrients more efficiently and more effectively.
Food fortification benefits by lowering the risk of the multiple deficiencies
This is an important advantage to growing children who need a sustained supply of micronutrients for growth and development.
Food Fortification generally aims to supply micronutrients in amounts that approximate to those provided by a good, well-balanced diet.
Consequently, fortified staple foods will contain "natural" or near natural levels of micronutrients, which may not necessarily be the case with supplements.
With enabling an environment for food fortification in India now prevailing, scaling up and expanding food fortification should be seen as a complementary strategy to improve the health and nutritional status of the population.
What is iron food fortification?
The World Health Organization recommends some iron compounds for food fortification. Among them are ferrous sulfate, ferrous fumarate, ferric pyrophosphate, and electrolytic iron powder.
Industrial Metal Powders (I) Pvt. Ltd., produces high purity Electrolytic Iron Powders with valuable characteristics through unique manufacturing processes which are ideal for food manufacturing industries.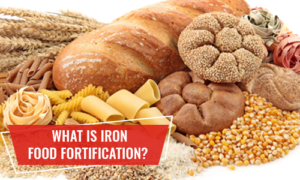 Fortification to be successful it has to be commercially viable & easy to implement too along with Scientific evidence.
1. We have to balance all the factors to get a winning combination.
2. The consumer does not know what we have put. He would like to see that what he cooks or makes must be right in COLOR, TASTE, SMELL, AND PRICE.
3. Ultimately the manufacturer of the food product whose products and brand is at risk if any issues are found in the product due to the choice of iron.
4. In India for the success of fortification, it should be economical, easy to implement, easy to taste & consumer must be happy & assured of decent performance.
Iron Food Fortifications Advantages:
Iron-fortified foods have been demonstrated to be one of the most effective food vehicles in combating iron deficiency. It is usually the first solid introduced to infants to supplement breastmilk.
The two major sources of fortification iron in infancy are infant formulas and infant cereals. Milk- and soy-based formulas tolerate the addition of highly bioavailable soluble salts.
Indeed, their use has been identified as an important factor in the declining prevalence of anemia both in low-income and middle-class infants
Which iron form to be used in food fortification?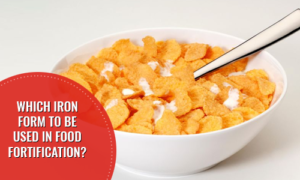 There are several forms of iron available, but there is a need to select the best iron fortificant which is a vital step in food fortification for long-term effectiveness. Technically, iron is the most challenging micronutrient to add to foods, because the iron compounds that have the best bioavailability tend to be those that interact most strongly with food constituents to produce undesirable organoleptic changes. When selecting a suitable iron compound as a food fortificant, the overall objective is to find the one that has the greatest absorbability, shelf life, stability, prices, etc. Elemental iron powders have traditionally been used to fortify wheat and other cereal flours. Armed with decades of research and development activities and cutting-edge technologies, Industrial Metal Powders (I) Pvt. Ltd., who are the best electrolytic Iron Powder Manufacturers in the world produces excellent quality food grade iron powders with worthy characteristics through unique manufacturing processes is used to manufacture iron-fortified food products in worldwide. The parameter of bioavailability is very important, and it also depends on the food to which iron powder is being added. Hence the producers of iron powder for food in India have developed capacities to offer products with different physical attributes and RBV (relative bioavailability).
Why "ELECTROLYTIC IRON" is a better option for all the type of food fortified products?
Fortification would be successful when it will be commercially viable & easy to implement too along with scientific & Physical evidence. Electrolytic Iron Powder has been proved to be the best option for food fortification and IMP is a reputed Electrolytic Iron Powder manufacturer, where IMP offer precisely customized products with specific physical & chemical properties to suit a wide spectrum of applications of industries.
1. HIGH PURITY:
IMP-India is the leading iron powder manufacturer with the best quality where we produce Electrolytic iron powder of FCC grade which is 99% pure iron. In order to get the desired Fe, the volume of EDTA has to be high but Sodium ferrous EDTA has only 13% of iron content. Therefore, our iron powder is the best.
2. ONLY IRON:
With electrolytic iron powder FCC, what you get & goes into your body is only pure iron & nothing else. With other forms of iron since the purity is very low, a lot more than just iron goes into your body. As IMP-India is the worldwide supplier of electrolytic iron powder, we make sure the purity content is up to the mark.
3. LOW COST:
Iron Powder Manufacturers, IMP-India have the best quality and low-cost electrolytic iron powder. Electrolytic iron powder is a low-cost iron given the purity in the world. Cost of EDTA is 2/3 times that of electrolytic iron FCC & if you consider cost based on the iron content it could be many more times.
4. MOST STABLE IRON:
World largest manufacturer of food grade iron powders IMP-India produces Electrolytic iron powder which is the most preferred iron as it is extremely stable & has no sensory issues of color, taste & smell. All other forms of iron are not as stable as this.
5. EASY TO BLEND:
Being in powder form of very fine 44-micron size and excellent physical properties, it is very easy to blend and mix by any user. As a reputed Electrolytic Iron Powder manufacturer, IMP-India also offers precisely customized products with specific physical & chemical properties to suit a wide spectrum of applications of industries.
6. MADE IN INDIA:
Supporting Make in India campaign, Electrolytic Powder Manufacturer IMP-India produces Electrolytic Iron Powder FCC grade since the past 20 years.
7. EXPORTED WORLDWIDE:
.Supplying to all the leading premix manufacturers worldwide, leading iron powder supplier IMP-India exports Electrolytic iron powder which is being used in more than 33 countries across the world.
8. HIGH SHELF LIFE:
Producing the best quality iron powder, IMP-India is the leading Electrolytic iron powder manufacturer, with FCC grade that has a shelf life of 2 years in packed conditions, hence it is less of a burden for the premix manufacturer, distributors, flour millers, etc. to store the iron as the premix. It also does not get oxidized as far as other iron fortificant.
9. WEATHER CONDITIONS:
IMP-India, the best worldwide iron powder manufacturer produces an electrolytic iron powder that works best in diverse weather conditions. With extreme weather & high humidity in India, there would be adverse reactions in most of the iron fortificant. Here too electrolytic iron powder would be the best alternative.
10. BIOAVAILABILITY:
At IMP-India, we understand the food fortification benefits and produce an electrolytic iron powder that has excellent bioavailability at 50/60ppm. Though EDTA & ferrous salts have better bioavailability. It is a fact that electrolytic iron powder FCC has good bioavailability & may take a little longer for the desired results. However, fortification is a long term or permanent, hence this should not be a problem.
11. EASY TO TEST:
For EDTA, the producer would need a specialized lab, Equipment, and training for an online test in the mill or the lab. IMP-India the leading iron powder manufacturer produces best quality electrolytic iron powder FCC grade, for which a simple spot test will help in determining the volume of the iron & also the homogeneity. Ordinary mill worker can also conduct this test, which would be most important for the mill owner.
12. COOKING METHOD:
IMP-India the best iron powder supplier, offer electrolytic iron powder that needs stable iron for various cooking methods that needs balanced iron especially when there is a lot of time involved, frying, exposure to the sun, the addition of several different citrus additions, etc. involved.
13. FINE FLOURS:
At IMP-India, we produce Electrolytic iron which is the best choice due to least color issues. Every other iron will have issues with the finer flours.
14. VITAMIN A INTERACTIONS:
For the process of food fortification in India, IMP-India produces electrolytic iron powders. The loss of Vitamin A which is added along with iron for fortification is the lowest with electrolytic iron. Vitamin A is an expensive and critical fortificant.
15. VOLUME OF PREMIX:
This increases due to the lower iron content in the ferrous salts where three times the salts are added to achieve 100% Fe content.
Why Electrolytic Iron from IMP:
Industrial Metal Powders (I) Pvt. Ltd, Pune produces high purity Electrolytic Iron Powders with valuable characteristics through unique manufacturing processes & totally under GMP & HACCP practices to get product & safety to food premixes manufacturers, flour millers and indirectly to the end users like us.
World largest manufacturer of food grade iron powders.
40+ years old INDIAN company.
The only company in the world having ISO 9001, 14001, 22000 & OHSAS 18001 certifications.
Our products are registered under FSSAI.
Exporting in more than 33 countries since last 20 years.
Supplying to all the leading premix manufacturers worldwide.
Associated with GAIN/FFI/IFFN/MI/WHO/IAOM etc.
Approved supplier under GAIN mineral premix supplier list.
One of the best manufacturing plant with HACCAP & GMP implementation.
Food safety practices for product safety
Food safety regulator FSSAI issued a draft regulation to allow food fortification in India. Below are a few regulations: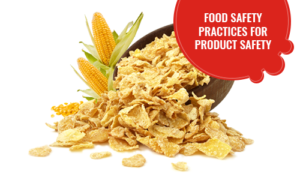 A manufacturer who fortifies any food has to ensure that the level of micro-nutrient in such fortified food does not fall below the minimum level specified in the schedule.
Under the regulations of food fortification in India, every manufacturer of food fortification should make sure that the level of micrometeorite in such fortified food does not exceed the highest amount of micro-nutrient that can safely be added to such food, having regard to recognized international standards.
All fortified food, whether voluntarily fortified or mandatory, should be manufactured, packed, labeled, handled, distributed and sold, whether for profit or under a Government-funded program, only in compliance with the standards specified under the provisions of the Food Safety and Standards Act, 2006 and regulations made thereunder.