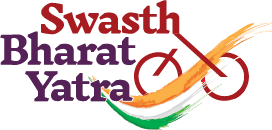 Swasth Bharat Yatra, an outreach of 'Eat Right India' movement is a Pan-India cyclothon. 150 'Volunteer-Cyclists' along with the 'Eat Right Mobile Unit' and 'Mobile Food Testing Unit' would travel across the country over 100+ days to engage citizens on issues of food safety, combating food adulteration and healthy diets. The cyclothon was flagged off on 16th October 2018 (World Food Day) from six different locations. After covering 2000+ locations, it will culminate at New Delhi on 27th January 2019.
A nationwide, jan-bhaagidari movement that rekindles nation's imagination about the role of food in every Indian's health
It is organized by FSSAI along with the Govt of India
To promote Eat Right India Movement - Eat Healthy, Eat Safe, Eat Fortified, No Food Waste
To build trust in food that people get in market through common testing.
Being a one of the leading manufacturers of food grade Electrolytic Iron Powder in the world for fortification, Industrial Metal Powders (I) Pvt Ltd, Pune did participate in the event when it reached Pune on 8th Nov 2018. IMP is supporting FSSAI & Govt of India to fight against iron deficiency anemia to make "ANEMIA MUKT BHARAT".
IMP participated in the event and exhibited the differentalternatives to reduce iron deficiency Anemia. The event was inaugurated by Mr. Girish Ji Bhapat, Cabinet Minister for Food, Civil Supplies and Consumer Protection, Food and Drugs Administration followed by the individual interactions with each participant to understand the products they fortified or help to fight against anemia.
IMP exhibited two of it's most cost-efficient and easy to use products to reduce iron deficiency anemia. These products have proven benefits in reduction of anemia across various countries in the world.
ELECTROLYTIC IRON POWDER: It is using to make the mineral premixes for the fortification of Atta and Maida. This is a recommended product by FSSAI for food fortification under their guidelines.
LUCKY SHAKTI LEAF/IRON FISH is the most easy and convenient product to reduce iron deficiency anemia. Here individual can use it in their daily cooking through boiled water, soup, curry, dal etc. It is the most cost-efficient method to reduce anemia.
IMP believes that we need to have an effective but an efficient method to reduce anemia & make a "HEALTHY INDIA" You can visit our website www.imp-india.com for more details or contact us on marketing@imp-india.com & +91 9881672810 for your requirement for the same.